Laws and Regulations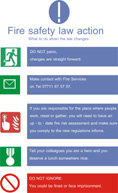 The Fire Precautions (Workplace) Regulations
are now in full force and The Government's Plans for a new Fire Safety Regime by 2006.
You are no doubt aware of the Fire Precautions (Workplace) Regulations which took effect on 1 December 1997.
Business Premises :
Every employer must undertake a fire risk assessment and where five or more persons are employed this should be in a written form.
Landlords of rented and shared accommodation:
Must undertake a fire risk assesment in a written form of each permises which has MDU status.
These requirements include:
The provision of firefighting and fire detection equipment
The provision of adequate means of escape in case of fire
The production of an effective fire action plan
The training of all staff - fire safety awareness
The maintenance and recording of all provisions.
These regulations are part of a range of fire safety provisions scattered amongst many pieces of legislation that are now the subject of a major overhaul of fire safety law in England and Wales.
Use FIRE SERVICES to help you comply with fire safety law - to protect your business interests.
FIRE SERVICES have considerable fire safety management experience who aim to provide you with the best independent and technical solutions available.
The fire precautions and risk assessment process carried out by the responsible person would need to keep to a minimum the risk to firefighters and to maintain any facilities provided for the use and protection of firefighters.
With certain limitations the Fire Authority will be responsible for enforcing or POLICING the fire safety arrangements in much the same way as the HSE ensure enforcement of the H&SWA.
The enforcing authority will also have a duty to develop and maintain an enforcement programme which would include details of how they will determine the frequency of their inspection programme in order to monitor and encourage compliance with the law.
The fire service will then be freed up from the responsible to manage and produce fire certificates and will be concentrating more on community fire safety - reducing fire deaths in the home.
Failure to comply with the Act is an offence!
It is also likely that the role and direction of the Fire Brigade's activities will change, with the adopting of a "policing " role on workplaces similar to that exercised by the HSE Inspectors, where they will use your own self assessment of fire risks as their starting point.
Use FIRE SERVICES to help you comply with Fire Safety Law - to protect your business interests