Fire Signs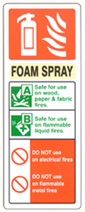 All doors and routes which lead out of a building can be used as exits in an emergency, but FIRE EXITS are those which can be designated specifically to be provide alternative ways out so that no-one is trapped by a fire.
Clear communication is vital when a building has to be evacuated. Exit Routes, Fire exit Routes and Fire Fighting Equipment, need to be clearly identified by easily understood signs.
The International Standards Organisation (ISO) has done a great deal of work to create graphic symbols for signs which are common to different countries. This has been agreed in the European Community Safety Signs Directive (EEC/92/58), and each member state must form its own legislation from this Directive. In the U.K this has been done by the Health and Safety Executive, who have produced the health and Safety (Safety Signs and Signals) Regulations 1996 No.341.
Prohibition (Red-White-Black) ( You must not / Do not do / Stop )
Mandatory (Blue-White) ( You must do / Carry out the action given by the sign )
Warning (Yellow-Black) ( Caution / Hazard ahead / Risk of danger )
Safe Condition (Green-White) ( The safe way / Where to go in an emergency )
Fire Equipment (Red-White) ( To indicate fire equipment )
Fire Exits and Emergency lighting
Doors must always be available whenever the building is occupied and exit routes must not be obstructed. All emergency escape routes and exit doors are clearly indicated by suitable signs. These signs take the form of a pictogram which may incorporate a directional arrow. Signs are often supplemented with words such as FIRE EXITS.
Emergency lighting is used in an area of the work place that are without natural daylight or when the building may be used at night. Emergency escape lighting helps to indicate and illuminate the escape routes to allow safe movement towards final exits. It also ensures the fire alarm call points and fire fighting equipment can be readily located if there is a failure of mains power.
To help you understand the new legislation and requirements for signage we have put together this step by step guide to the new generation of signs. Once you have gone through it, and if you have further questions, please don't hesitate to contact us. We are here to help!
The Legislation requires:
Employers to use Safety Signs wherever there is a risk that cannot be controlled by other means.
All Safety Sign boards to contain a pictogram as part of their intrinsic design features.
signs without a pictogram should only be used to supplement a sign containing a pictogram.